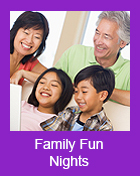 LET'S HAVE SOME FUN!
If you are a family in which there are mental health and/or addiction concerns, and you would like to be surrounded by other understanding people and just have some fun, please join us for an evening of laughter, food, games and social activities. Bring yourself, your children, and your support system (family, friends, or professionals) for some quality time together.  This model was proposed to us by families affected by mental health and/or substance use, and so the event is a direct response to the community request.
Family Fun Nights occur on the 2nd Friday of every 2nd month (February, April, June, August, October, and December) at Garratt Wellness Centre (7504 Chelsea Place, Richmond, BC V7C 3S9).
The next Family Fun Nights of 2018 are scheduled for August 10th, October 12th, and December 14th.
If you wish to be updated on the specific dates and details of our Family Fun Nights, please contact us to add you to our list. We also appreciate it when you let us know that you will be attending. This helps us have an estimate of anticipated group size and better prepare for the event (ex. to assure plenty of food and crafts).
We are always accepting referrals.
Please call 604-782-1306 to register and setup an intake meeting or use the form below to send an email:
Next Event: