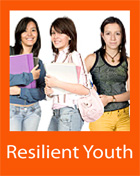 Two groups are offered to 11-13 year olds, with an older group for 14-18 year olds that are living with or exposed to drug and alcohol use, gambling or mental illness in their families. The group is a combination of psycho-education, group support and recreation. The group is offered once per week for 8 weeks four times per year.
It is co-facilitated by various community organizations, and the aim is to provide both a male and a female facilitator to mirror the composition of the groups.
The 8 week group format focuses on: Group Norms/Guidelines for group formation and relationship building; understanding and learning about a mental illness and breaking down the stereotypes and stigma associated with mental illness; understanding and learning about a drug and understanding the foundations of addiction; learning how to speak about and cope with a family members' mental illness and/or addiction in healthy ways; learning how to support their family member; problem solving tough situations and learning how to reach out for help; learning to express feelings and develop emotional literacy; and building healthy relationships with peers and other adults.
The philosophy of the Resilient Youth group is to Eat, Talk and Do. Eating together and communicating with others with shared experiences is a powerful experience for adolescents. The Resilient Youth group members find new ways of living with their family's situation and often create new and healthier coping skills.
Resilient Youth Group
The Resilient Youth 11 – 13 year old group will run every Tuesday starting at the end of January 2017
Resilient Older Youth Group
The Resilient Older Youth group for ages 14 – 18 year olds usually runs one Tuesday and one Friday per month at Garratt Wellness Centre.
We are now accepting referrals for the Winter 2017 Session for the Resilient Youth 11 – 13 year old Group and the Resilient Older Youth 14-18 year old Group.
(stay tuned for dates)