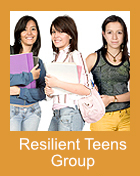 Resilient Teens Group
What:  The Resilient Teens Group is a once-a-week group that engages youth affected by parental mental health or addiction concerns in a variety of learning activities, games and social opportunities.
When:  Each group runs for 6 weeks.  The groups usually occur 2  times per year (Spring and Fall.)  Groups are held during after school hours. Snacks are provided and transportation to and from home may be arranged.
Where:  Groups are held at the Garratt Wellness Centre (7504 Chelsea Place, Richmond)
Who:  The groups are for older youth ages 13 – 18 years old who are affected by parental mental illness or addictions.
The groups are led by trained facilitators who are either program staff or from local partnering organizations.
Why:  This multi-week group offers opportunities to connect with others, learn ways to express emotions, and build new skills for teenagers living in families affected by parental mental health or addiction concerns.
Resilient Teens Groups are open to Supporting Families clients who are:
Ages 13 to 18 years old
Affected by parental mental health or substance use
Living or going to school in Richmond
Whose family member has decided in partnership with the Supporting Families Clinical Lead that the group would be beneficial for the youth
If you have questions about registration and/or about this group, please contact us 
To become a Supporting Families client, please submit a completed Referral Form, available HERE.